The best-in-class
application to enhance
business performance
Oracle Fusion Applications is the next-generation a suite of service-oriented enterprise applications and technology that advances the dynamics in the applications and revolutionises the business.
Designed and developed on Oracle Fusion Middleware, Oracle Fusion Applications is built for broad business tasks such as Financial Management, Human Capital Management (HCM), Customer Relationship Management (CRM), Supply Chain Management (SCM), Project Portfolio Management, Procurement, and Governance, Risk, and Compliance.
Features of Oracle Fusion Applications
Enhance business processes and application security with Oracle Fusion Applications' service-oriented architecture on a scalable cloud platform.

Oracle Fusion Financial Management
Manage and govern income, expense and assets, while also optimising profitability, determining tax obligations, ensuring compliance, and maintaining long-term enterprise sustainability with effective financial management tools.

Human Capital Management
Meet organisational goals, enhance productivity, and easily plan manage, and optimise global HR functions with Oracle fusion HCM tools.

Customer Relationship Management
Transform into a data-driven enterprise with Customer Relationship Management. With all the necessary tools for customer success, CRM helps in business process management, improving data quality, extracting data from one unified source, and most importantly, providing accurate information.

Supply Chain Management
Seamlessly manage the flow of goods, data, and good or service-related finances; right from procuring raw materials to delivering the final product with product master data management, inventory management, cost management, and other supply chain management tools.

Project Portfolio Management
Enable teams to plan, work on, and deliver projects with the modern enterprise-grade solution designed for project-driven businesses. Project portfolio management tools are specifically designed to effectively enhance the project management process while ensuring smarter business decisions are made using intuitive business intelligence tools

Procurement
Evaluate, select, and create formal agreements with suppliers while also managing existing supplier relationships and working alongside accounts payable to timely process supplier invoices for payment with procurement

Governance, Risk,
and Compliance
Regulate activity in business management applications and define risks to the organisation's business and controls to mitigate the defined risks with governance, risk, and compliance.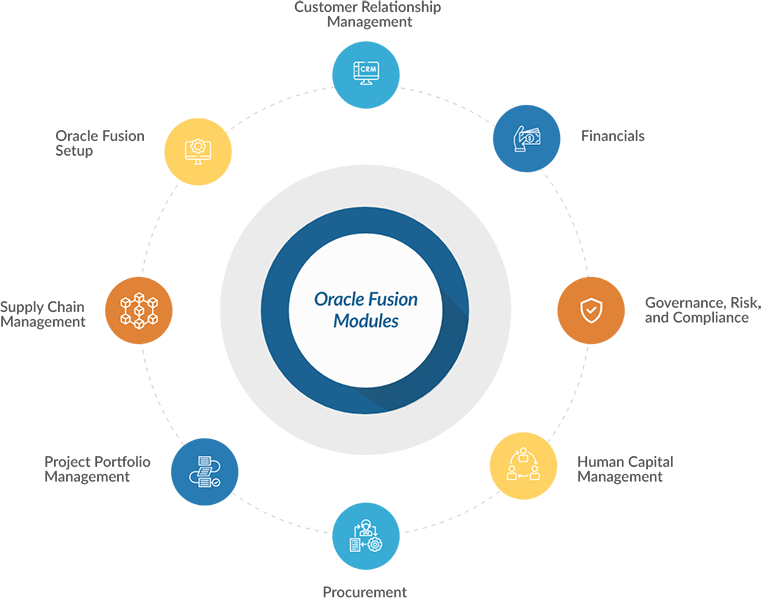 At Pansoft, we understand the need to have a competitive advantage in the market and have partnered with Oracle, the world's leading cloud ERP and cloud services provider.
Our Oracle Fusion Applications Offerings:
Readiness Assessment
Consultation and Implementation
Cloud Offerings
Upgrade and Migration
Enhances organisational productivity and improves employee efficiency
Provides a secure, social and collaborative workspace for users
In-built Business Intelligence (BI) tools help in better and faster decision-making based on real-time data
Streamlines day-to-day processes
Enables business agility
Scalable
Built-in invoice imaging for invoice integration with third-party organisations speeds up the payment process
Easily accessible from any device
On-site and Offshore Model

Dedicated Support
On-premise/Cloud Services
Solution/Process Consulting
From intelligent business applications to infrastructure, Oracle delivers tomorrow's emerging technologies today, like the world's first – and only – autonomous database.