Focus on your core
business goals, while
we manage the technology
Technology, today, plays an integral role in contributing to a business' success. Enterprises, although, find it challenges to maintain and manage the large, diverse, and complex IT landscapes. The complexity to manage and maintain existing systems increases in high maintenance and operational costs.
Pansoft Technologies is a leading information technology services, products, and consulting providing organisation and is the preferred Managed Services Provider (MSP) of innumerable reputed brands in the Middle Eastern geography. With our managed services model, we help enterprises gain from new technologies, boost performance and reliability, and align technology to deliver business values.
Application Managed Service
With our Application Managed Services (AMS), we help organisations improve efficiency, enhance user-satisfaction, and relieve its IT workforce from performing mundane administrative tasks. Our AMS help in optimising business applications such as ERP, information management, and system integration, and help in accelerating business performance. Our AMS teams delivers the best-in-class capabilities tailormade for your operational needs and requirements.
Oracle EBS
Oracle Fusion Applications
Oracle Cloud ERP
Ellucian Banner

Application
24×7 Database
Monitoring Remote Application and Database Administration
Cloud Migrations
Back-up and Recovery
Disaster Planning
Performance Tuning and Upgrades

Support and Maintenance Services
Routine and Preventive Maintenance
Incident and Problem Management
Knowledge Management
Monitoring Services

Enhancement and Value Add Services
Change Request Management
Migration and Upgrade
Application Assessment
Enhancement

Infrastructure Managed Services
As a global IT infrastructure services provider, we plan, design, and implement organisational IT strategies along with managing mission-critical IT infrastructure for our clients. Our Infrastructure Management Services deliver infrastructure services which include server administration, networking management, complete technical support, storage and backups with latest security measures.
Helpdesk
Storage
Network
Database Administration
Data Centre Management Services
Helpdesk Services
Service Desk and User Management Services
Remote Monitoring Services
Server Management Services
Database Administration and Management Services
Network Infrastructure Management Services
Security Management Services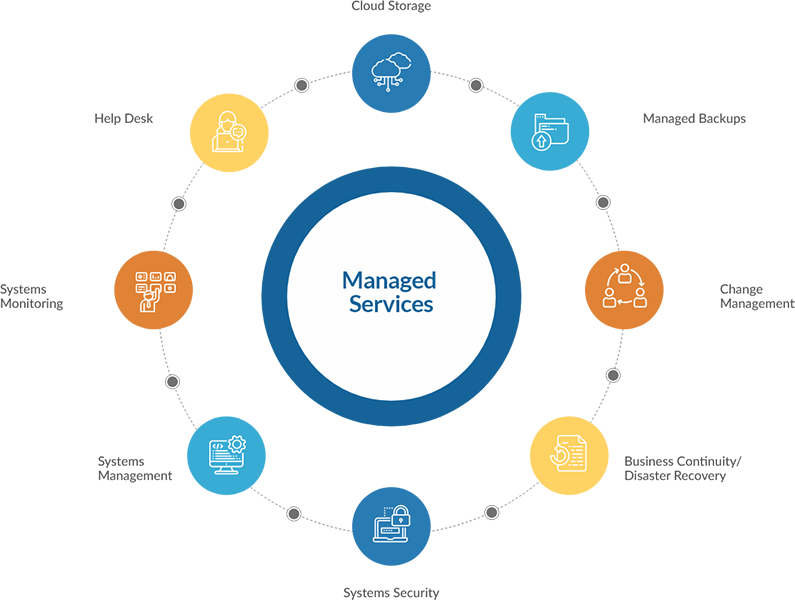 Oracle Cloud
Oracle Cloud ERP
AWS
Microsoft Azure
Oftentimes, internal IT teams do not have the expertise to monitor and maintain the cloud environment. As a cloud managed services provider, we manage cloud security, computing, storage, network operations, application stacks, and vendors.
With our Cloud Managed Services (CMS), we enable enterprises to reduce operational costs, accelerate business growth, and align business functions with robust administrative and monitoring capabilities. We aim to provide enterprises with endless opportunities that the cloud technology presents.
Monitor Applications, Middleware, Storage Devices, Servers, and Network
Manage Multi-Vendor Clouds and Traditional Technologies
Hybrid/Public/Private Cloud Solution Design and Deployment
Cloud Application Architecture and Development
Cloud Design, Transformation and Onboarding
Cloud DevOps Automation
Cloud Migration
Reduce total cost of ownership for IT infrastructure
Maximise operational efficiency
Combine operations, resources, and markets with top-of-the-range technology capabilities
Increase infrastructure availability
Improve infrastructure utilisation
Boost end-user satisfaction

Functional Support
Enhancements
Implementation Of New Features

Troubleshooting
Enhancements
Data Extracts & Batch Programs
24 x 7 Remote DBA
Proactive Monitoring & Maintenance

End-to-end Transaction Testing
Integration Testing
Load Testing

Application Training
New Feature Overview Training
Technical Training
On-site and Offshore Model

Dedicated Support
On-premise/Cloud Services
Solution/Process Consulting